EBC today sent a letter to the President of the European Commission Ursula Von der Leyen and Executive Vice-President Frans Timmermans on the need for the European Commission and the Member States to take urgent measures to support the construction SMEs and crafts to cope with the increase in raw material and energy prices. 
The war in Ukraine has aggravated an already difficult economic situation caused by the Covid-19 pandemic, with the increase in fuel prices adding to the already existing supply shortages and price increases of materials essential to the activity of construction enterprises in Europe. 
At present, many micro, small and medium-sized building companies are forced to limit or stop their activities, discouraged from establishing or renewing contracts, put under pressure by suppliers who demand higher and faster payments or customers who feel or fear the impact on the cost of their work, or are unable to take part in public procurement contracts because the increased costs are not properly considered by public authorities. 
The European Union must ensure a rapid and coordinated Europe-wide response to this crisis, which jeopardises not only the ambitious green transition of the European economy and society, but also the post-Covid recovery and resilience plans.  
For these reasons, EBC urges the European Commission to politically encourage and financially support Member States to put in place concrete initiatives to support SMEs in the construction sector, measures such as, among others: 
Provide

temporary financial aid to micro, small and medium-sized companies

in order to compensate for the increasing fuel, energy and materials costs and help them maintain their activity;

 

Set up an

energy cost cap at European level

to combat speculation and excessive increases;

 

Order contracting authorities to proceed, as promptly as possible with the

payment of compensation to companies due to the increases in the prices of materials

under existing contracts;

 

Give

priority to the payment of construction SMEs

by public authorities;

 

Encourage public purchasers to

adopt a behaviour that takes account of exceptional circumstances

. This should include inter alia and on a case-by-case basis depending on the situation of each company: amending/modifying contracts; applying unforeseen circumstances or force majeure clauses; suspending penalties related to the current geopolitical situation; postponing execution deadlines; and including a price revision clause in all future contracts;

 
Constituting around 99% of the European construction sector, SMEs and crafts are the hands implementing the environmental ambitions of the European Union, by delivering on the Renovation Wave ambition and creating a built environment that is less dependent on energy fluctuations and more environmentally responsible.  
EBC is ready to engage in a dialogue with the European Commission and any other key actor to identify solutions to facilitate the activity of construction SMEs in these very turbulent times.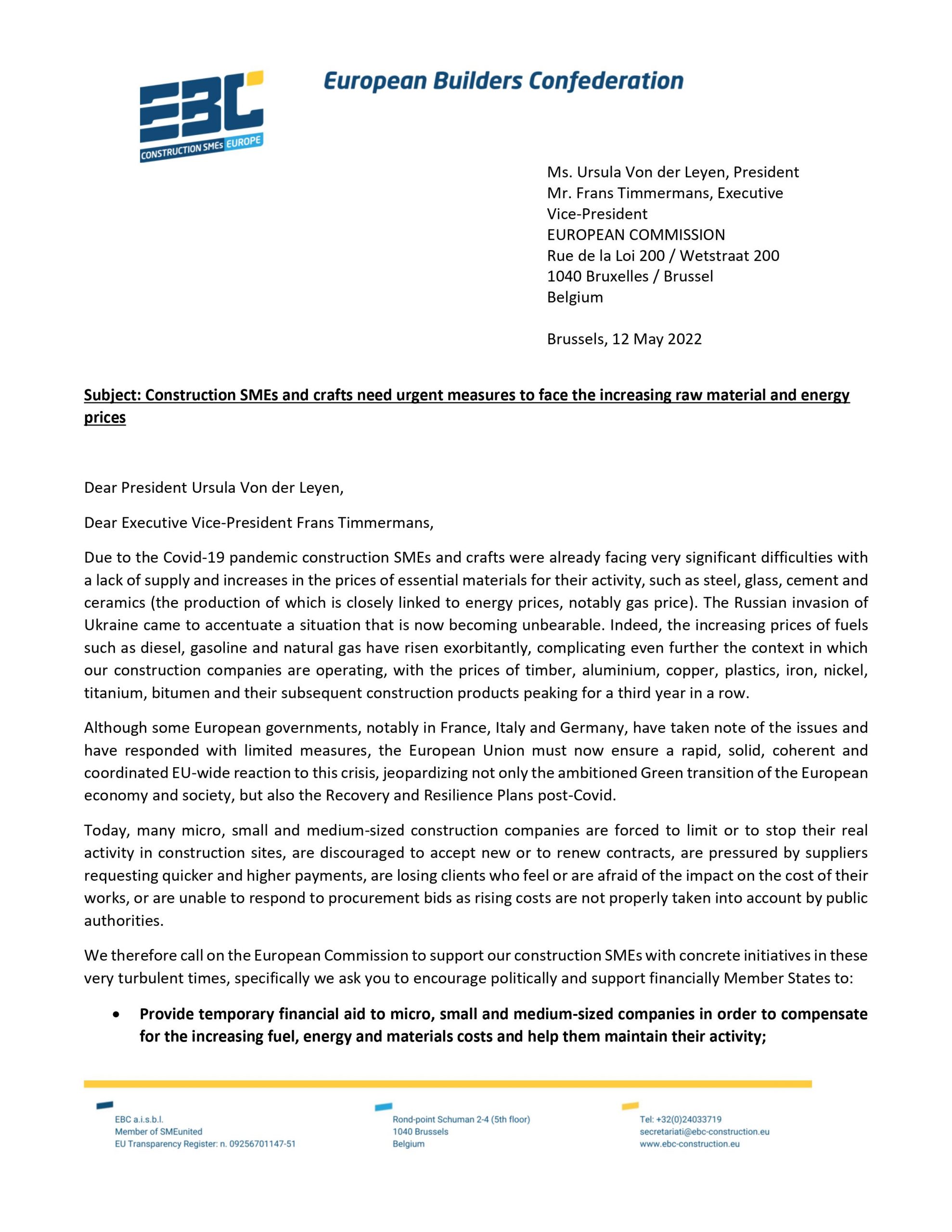 To read the full EBC letter to the European Commission, click here.