The EU Industrial Strategy recognized construction as a priority ecosystem to achieve EU goals, for which the best transition pathways should be identified through a co-creation process including all relevant actors, amongst which industry stakeholders, EU institutions and Member States, .
Building on strategic discussions already initiated under the Construction 2020 initiative, the Commission has initiated the co-creation process with a renewed High Level Construction Forum (HLCF) driving the development of this transition pathway.
The proposed mission of the HLCF is thus to provide a forum for the construction ecosystem to co-create and implement a roadmap for the transition pathways towards a green, digital, and resilient construction ecosystem that contributes to the wider EU goals. The roadmap is expected to provide concrete actions and targets for 2030 and 2050 and identify potential opportunities and barriers to overcome.
Based on the experiences and feedback on Construction 2020, the stakeholders' needs and interests, and  the political priorities of the EU, a new structure has been set up for the HLCF, split into the following cluster groups for more targeted debates:
Digital Cluster Group: To enable a digital and innovative construction ecosystem
Green Cluster Group: To enable a resource and energy efficient, decarbonised construction ecosystem
Resilient Cluster Group: To enable a resilient construction ecosystem (e.g., developing skills, better regulation of the internal market and ensuring international competitiveness)
In the context of the Construction 2050 Alliance, EBC cooperated with other construction stakeholders to provide initial feedback on the governance of the new HLCF and its cluster groups. Moreover, EBC participated to the first meetings of this configuration to provide the construction SMEs' perspective for the future policy roadmap.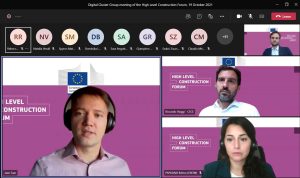 In particular, EBC Secretary General moderated a breakout session on the digitalisation of SMEs of the 1st Digital Cluster group meeting. During the session, Eugenio Quintieri stressed the fact that SMEs face many challenges in implementing digital technologies, such as a lack of financial means, knowledge, and understanding of digital skills. For digitalisation to happen, investments will initially increase costs for SMEs; in the current context of the continuous rising prices of construction materials, investing could become even more problematic since it is difficult to invest when margins are low in an environment with a lot of competition. Hence, a compromise in investing and maintaining margins proves to be crucial, a situation where local, national and European public authorities have a clear supporting role.
EBC stands ready to contribute further to the HLCF discussions to share the views of its construction SMEs and its partners in the Construction 2050 Alliance.
| | |
| --- | --- |
| | To join the High-Level Construction Forum initiative, click here |