The DigiPLACE consortium will organise the event "Towards a Reference Architecture Framework for a Digital Industrial Platform for the construction industry" on 16 March within the frame of the EU Industry Days 2021. DigiPLACE is an EU-funded initiative that aims at assessing the feasibility of a European digital platform that could integrate the different technologies, applications and services currently existing in digital construction.
The event will be opened by different keynote speakers from the European Commission, before diving into some of the findings of the DigiPlace project and the developed Reference Architecture Framework. Afterwards, participants will be able to hear from construction and built environment practitioners why DigiPlace is important and relevant, while also picturing what will follow next.
EBC is a consortium partner of the DigiPLACE partnership. On this occasion, David Amadon, Technical Director at CAPEB, the French organisation representing construction crafts, will take part in the discussion on behalf of EBC, highlighting the advantages a Digital Industrial Platform for Construction can bring for construction SMEs and craftsmen.
Join us for an important discussion on digital construction!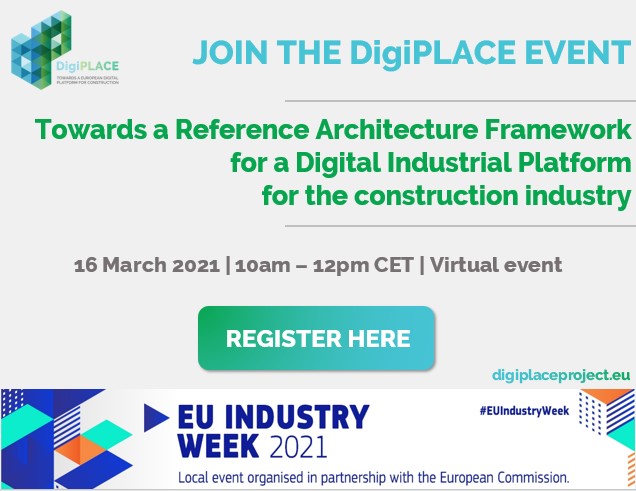 To know more about the EU Industry Days 2021, visit the www.euindustrydays.eu website